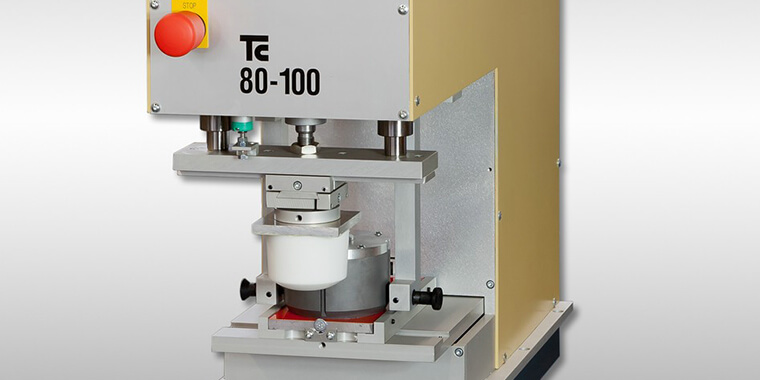 For single and multi-colour printing, inscription, labelling and decorating
Modularly constructed pad printing machine TC 80-100
Pad printing machine with adjustable movement and speed
Technical specifications:
pneumatically powered pad printing machine with adjustable movement and speed
printing possible below level
pressing force from 1060 N, other types on request
max. no. of cycles approx. 2,000/h
cliché width: max. 650 mm
open or closed ink cup systems
TAMPONCOLOR movement for smooth operation, good ink transfer
touch panel to adjust printing parameters and to change printing modes
operating modes: jog mode/colour mixing, single cycle, automatic, dual and multi-colour printing
operation by hand and foot, equipped for automation
operating panel: Siemens PLC, programmable
optional: fully automated pad cleaning with freely selectable cleaning cycles
optional: sliding clichés and coding bars for changing print images
optional: can be upgraded as semi-automatic and fully automatic print station with feeds, handling and interlinkage
Ask us
Want to find out more about the TC 80-100?